Pooping a long thick one into a bowl in my bedroom - DirtyPrincess  | 2022 | FullHD | 751 MB
Tags:
scat solo
,
defecation
,
scatology
,
poop
,
shit
,
kaviar scat
,
pooping girls
,
shitting girls
,
shitting ass
,
scat girls
,
poop videos
,
amateurs scat
,
dirty anal
,
scat porn
,
LittleDirtyPrincess
Actress:
DirtyPrincess 
Clip Name:
Pooping a long thick one into a bowl in my bedroom
Released:
2022
I just woke up and feel that something big is right at the very edge of my hole! I slip off my underwear and play with my hole for a while. I've already prepared a bowl for the occasion, as if I am going to serve you a delicious meal. I flip on my side and spread my cheeks to the side, and my nice long load spills out of my hole into the bowl. It's sticks over the edge a bit! It's a nice long turd, one of my longest ever probably. My ass gets quite dirty in the process too. I jiggle my dirty ass for a bit and then spread my front hole a bit. Honestly the smell and seeing that giant thing was turning me on!! Then I meet you in the bathroom where we look at this giant brown snake together. And I finally wipe my dirty ass. just like I say- it's one of those times where I feel like I could just keep wiping and never be clean! It's still dirty but I am too tired for this shit (literally) so I'm just gonna wash it off in the shower lol. Then we flush the turd together. Pretty soon these won't go to waste anymore!
Time Video:
00:06:54
Quality Clip:
FullHD
Format:
MPEG-4
Size File:
751 MB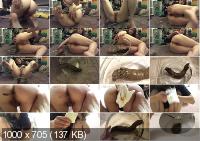 Download - Pooping a long thick one into a bowl in my bedroom - DirtyPrincess  | 2022 | FullHD | 751 MB
scat solo, scat, defecation, scatology, poop, shit, kaviar scat, pooping girls, shitting girls, shitting ass, scat girls, poop videos, amateurs scat, dirty anal, scat porn